Twist, Clip and Breathe with Nuaire's IAQ-VALVE
IAQ-VALVE
December 2018
Ventilation manufacturer, Nuaire has developed a new carbon filtration technology to simplify the way designers keep air pollution out of the home.
Increased road traffic now accounts for up to 65% of urban environmental pollution, which research suggests claims an estimated 40,000 lives each year in the UK. Annual mean levels of NO₂ near busy roads regularly breach legal levels, and as a result, people living in homes nearby are at risk of developing asthma, lung cancer, heart disease and dementia.
Today, Nuaire has unveiled IAQ-VALVE, a unique style of filtration that combines a standard supply air valve with a carbon filter. This combination is designed to simplify the control of air pollutants entering the home by utilising a standard MVHR supply valve that is part of a ducted ventilation system. With no requirement for an access hatch, specification and design are straightforward, and all the homeowner will see is a discrete, white ceiling valve.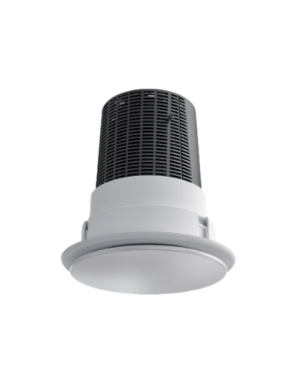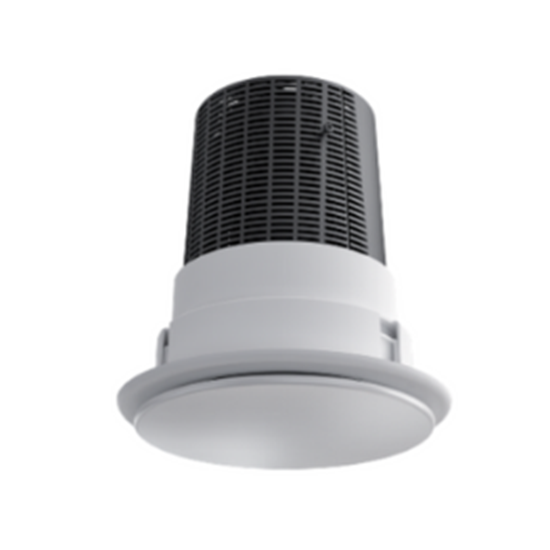 Small but powerful, the carbon filter valve is capable of capturing up to 91% of NO₂ and other harmful pollutants. The carbon media held inside a cartridge is microporous and has a much larger surface area than its external dimensions suggest. A spoonful of activated carbon equates to the surface of a football field. Through a process known as 'adsorption', the pollutants are attracted and held on the surface of the carbon, trapping them before they enter the home.
Powerful filtration is combined – critically – with low resistance. The carbon media offers a low resistance to air volumes of up to 15l/s, so the optimum performance of the MVHR system is maintained. The valve is fully adjustable for commissioning purposes and is lockable once commissioned, so even when the cartridge is replaced, the valve returns to the locked, commissioned position for guaranteed system performance.
The installation of IAQ-VALVE takes into account the varying availability of void space in new build homes and apartments. For deeper ceiling voids, the valve can be ducted vertically using rigid duct with the valve added after the ceilings are plastered around the duct opening. For lower ceiling voids down to 180mm, it can be installed using a first-fix plenum making connection simple.
Maintenance is equally straightforward. IAQ-VALVE has a simple 'twist-and-clip' bayonet fixture which enables quick release for easy maintenance that can be carried out by the homeowner without the need for tools. Nuaire recommends replacement of the cartridge every two years, offering a free-return recycling service to ensure the used media is disposed of correctly.
Business Development Director, Andy Mudie explains: "IAQ-VALVE represents a new type of life-saving technology that simplifies the design and installation of carbon filters. The virgin activated-carbon pellets remove a reassuringly high level of pollutants produced from vehicle fuel combustion, including harmful NOX, sulphur dioxide, ammonia and VOCS, all of which are known to damage the body and reduce life expectancy.
"Removal of pollutants is the most important aim of any carbon filter product, but that must be followed by factors that make specification, installation and maintenance easier. We have considered the end user, designer and contractor in the unique design of IAQ-VALVE", 
Mr Mudie said. IAQ-VALVE works as part of a complete system with Nuaire's low-energy MVHR Eco range. Polluted air is passed through the G3 filters inside the MVHR system, where particulates, pollen and dust are removed. This air is then passed through the carbon filter valve on the supply-leg of the ducting.
Event
Nuaire will launch the new IAQ-VALVE at an event in London on 30th November, with members of the press and clients from the leading consultancies in London and the South East.
While the issue of air pollution is still far from being resolved in urban towns and cities, Mr Mudie expressed his confidence in the IAQ-VALVE and its effectiveness in protecting homeowners from the life-threatening effects of dirty air. "IAQ-VALVE is a unique, practical solution to the problem. All elements of the design have been considered in exacting details, from the simple method of replacement to the low-resistance. It is impressive how something so small and discrete can make such a positive difference to the air quality in new homes."