Not to Be Sniffed At: Brits Think Body Odour and Stinky Feet Affect Post-covid Levels of Indoor Air Quality
Over Half of Brits
December 2021
say air quality now plays a significant role in post-Covid life - but believe bad air quality in offices, pubs and shops is caused by a combination of pongy contributors such as body odour, smelly feet and bad breath.
Air quality now plays 'major role' in offices, pubs and shops, according to majority of adults in new research
Baffled Brits name BO, bad breath and toilet smells as major contributors to bad indoor air quality but fail to highlight coughs and sneezes as contaminants
Expert says ventilated air flow, directing fresh air is solution to prevent breathing second-hand air AND prevent risk of spreading airborne pathogens and pollutants following UK-wide demand by businesses
New Independent Research
Among over 2,000 adults nationwide, conducted by indoor air quality specialists Nuaire, reveals that 55% of people think air pollution has a 'direct impact' on their lives - but a third (33%) are confused in believing that outdoor air pollution does not impact the quality of indoor air in any way. They mistakenly claim that major contributions to bad air quality indoors include body odour (named by 20%), unwashed clothes (19.5%), toilet smells (18.7%), strong-smelling food (16.8%), farts (15.2%), dirty gym kits left in bags (11.9%), bad breath (8.6%) and smelly feet (8.3%).
More than four out of five (81%) also fail to realise that coughs and sneezes can adversely affect air quality – one of the main contributors of pathogen spread for airborne viruses, from Flu and the pesky common cold to Covid-19. A single cough can travel as fast as 50 mph and expel almost 3,000 droplets in just one go. And sneezes can travel up to 100 mph and create upwards of 100,000 droplets* reaching people across a room in seconds.
Air Quality and Ventilation Expert
Wayne Glover, managing director of Nuaire, says: "Covid has brought air quality front of mind with the general public, and as we return to some sort of normal, Brits are more aware than ever before of the quality of air in offices, pubs, restaurants and shops. You can sense and feel now when a place isn't properly ventilated!
"Body odour and the other various smelly factors named by people surveyed are clearly unpleasant, especially in enclosed surroundings - but they are not the cause of bad indoor air quality. Particulate Matter and harmful gasses in the air mainly contribute to bad indoor air quality, linked to lung disorders like asthma, COPD and lung cancer - and everyone is at risk.
"The problem we have in the UK is that we rely too heavily on air-conditioning and air purifiers to filter the air in our mass-occupied spaces, but they are not enough as they just move air around the room or pull bad air across people's faces. Throw a sneeze in the mix, and everyone in that room can be affected.
"We kid ourselves into thinking a cold, air-conditioned room will protect us from the spread of viruses, but businesses of all types need to consider the filtration of their air within the spaces in which they operate to reduce this impact. This could result in less of the workforce being off sick and a more alert and healthy office."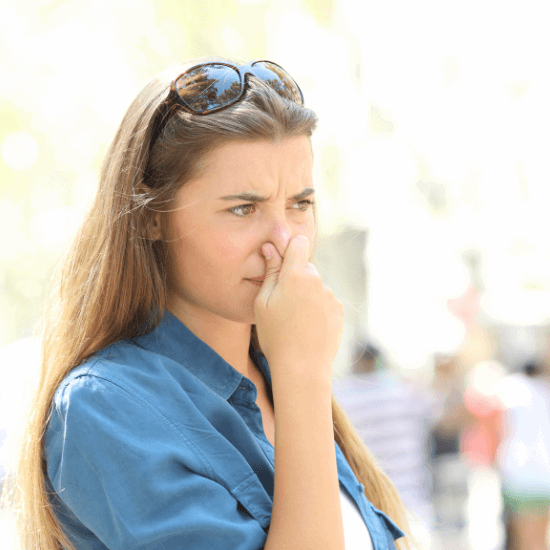 Ventilation problems
Can come in many different guises, and each, in turn, can affect people's health and wellbeing - but whatever a building might need, Nuaire can help understand the problem and find a product to sort it.
"A well-designed ventilation system is key to ensuring the wellbeing of a building's occupants, creating not only a comfortable environment but a healthy one," Glover continues. "As indoor pollutants such as viruses become more of a concern, the focus needs to be put on how air travels throughout a room and an effective distribution system design to minimise the risk of cross-contamination."
Nuaire is a global company based in Wales which designs and manufactures domestic, commercial and industrial ventilation products. Increased demand by UK businesses to improve air quality at work has led to Nuaire developing new ventilation products - designed to enhance indoor air quality and prevent the risk of spreading airborne pathogens and other pollutants in shared spaces.
Nuaire is passionate about creating healthier, happier spaces with higher indoor air quality and occupant wellbeing levels.