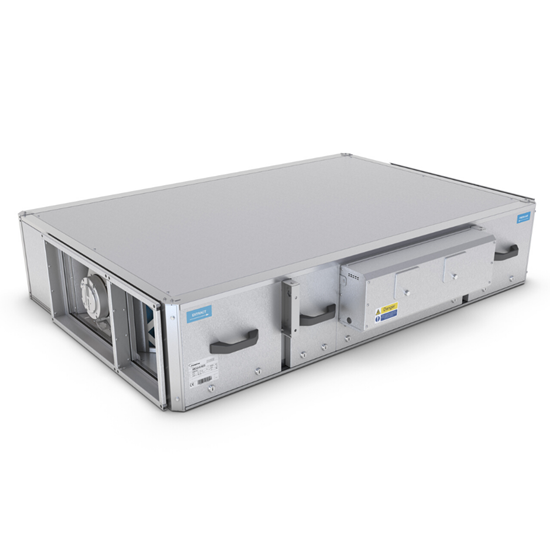 XBOXER XBC
Extremely low depth, XBC packaged heat recovery units are designed to save energy, improve indoor air quality and provide the lowest possible noise breakout.
Unit Size
Part of the XBOXER range, XBC is the UK's number 1 energy-efficient range of packaged heat recovery units.
Smaller, quieter and easier to install than the current market offering, our award-winning range has earned its leading position by saving energy and time on site. The combination of innovative design and state-of-the-art controls ensures the best possible indoor air quality, whilst helping them reduce energy and save money.

Highest Efficiencies
Counterflow heat exchanger with efficiencies of up to 95%

Space Saving Solution
Lowest depth by duty on the market

Configurable Duct Options
Inlet positions can be changed at installation stage for complete install flexibility

Easy Maintenance
Side access as standard with only 260mm required for filter access
The use of energy efficient fans and high levels of heat recovery make the XBC unit one of the best units available.
Graham Carr
McCaan & Partners
The XBC's slim profile allowed us to achieve the exposed services approach throughout each floor by ensuring that the correct performance and control measures could be achieved.
David Coulter
RYBKA
We have used XBC units quite extensively over the last few years and have found them to be quiet and reliable.
Peter Powell
McCaan & Partners