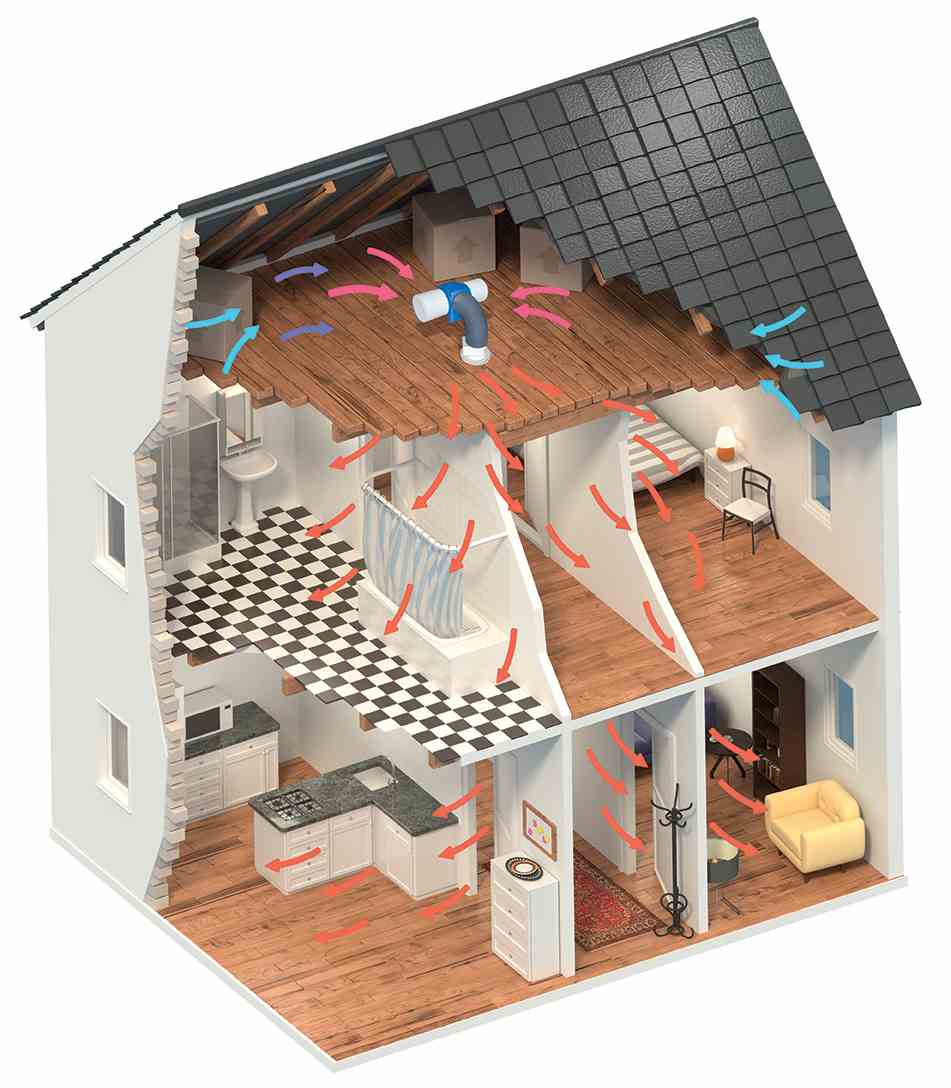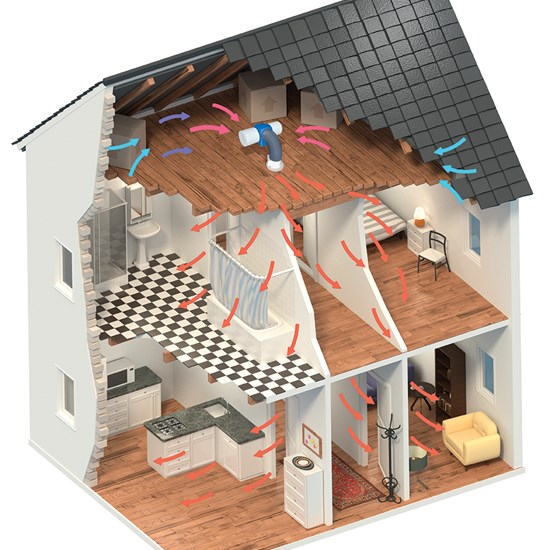 What is PIV 
Positive Input Ventilation as a cost-effective cure for condensation – but what exactly is PIV, and how does it work?
Positive Input Ventilation works by gently introducing fresh, filtered air into the dwelling. Air is drawn into the unit and is passed through filters before being pushed around the home – as the air moves, it creates a pressure as it dilutes, displaces and eventually replaces the stale air in the home.
As air is constantly moving, humid air cannot settle on cold surfaces, such as windows or outer walls, meaning it cannot condensate. Eventually, this humid air is forced out of natural leakage points throughout the home – such as windows, under doors or even through keyholes. PIV has become the UK's most popular method of low-energy, whole-home ventilation, and is now installed in over 1 million homes in the UK.
There are different types of PIV systems, which have slightly different installation methods. For example, our Drimaster-Eco unit is installed in the loft and is ducted down to a diffuser in the ceiling, whilst our Flatmaster unit requires ducting from outside the property to a central location. Despite having different installation methods, both units work in the same way and achieve the same goal – providing fresh, filtered air to a property and curing condensation.
How to Install your Drimaster-Eco
Drimaster-Eco, Positive Input Ventilation (PIV) system from Nuaire will cure your condensation dampness problems and improve your indoor air quality (IAQ). Follow our simple video guide and install your low-energy Drimaster-Eco system quickly and successfully. See full video range via out YouTube channel here.

Your Drimaster-Eco PIV system is designed to be mounted in the loft space where it draws fresh air through the G4 grade filters, and inputs it at ceiling level into the home. Positive Pressurisation is the most effective method of retrofit whole-home ventilation and is a tried and trusted cure for condensation dampness.
The principle introduces a constant flow of fresh, filtered air into the home, which lowers humidity levels and so prevents streaming windows and black mould patches from forming. It creates a dry, allergen-free environment that is great for asthma and allergy-sufferers. The G4 grade filters are fine enough to prevent pollen entering the home - good news for hay fever sufferers.

The Drimaster-Eco heat model (DRI-ECO-HEAT-HC) has all the controls for the fan in the ceiling diffuser, so you can commission and adjust the settings without having to enter the loft. A 400w low-energy heater tempers the air delivered into your home. Electrically-controlled, it minimises energy-use.  Drimaster-Eco features handy wireless controls and sensors which respond to changing humidity and CO2 levels, to ensure the best indoor air quality, and to help you save energy