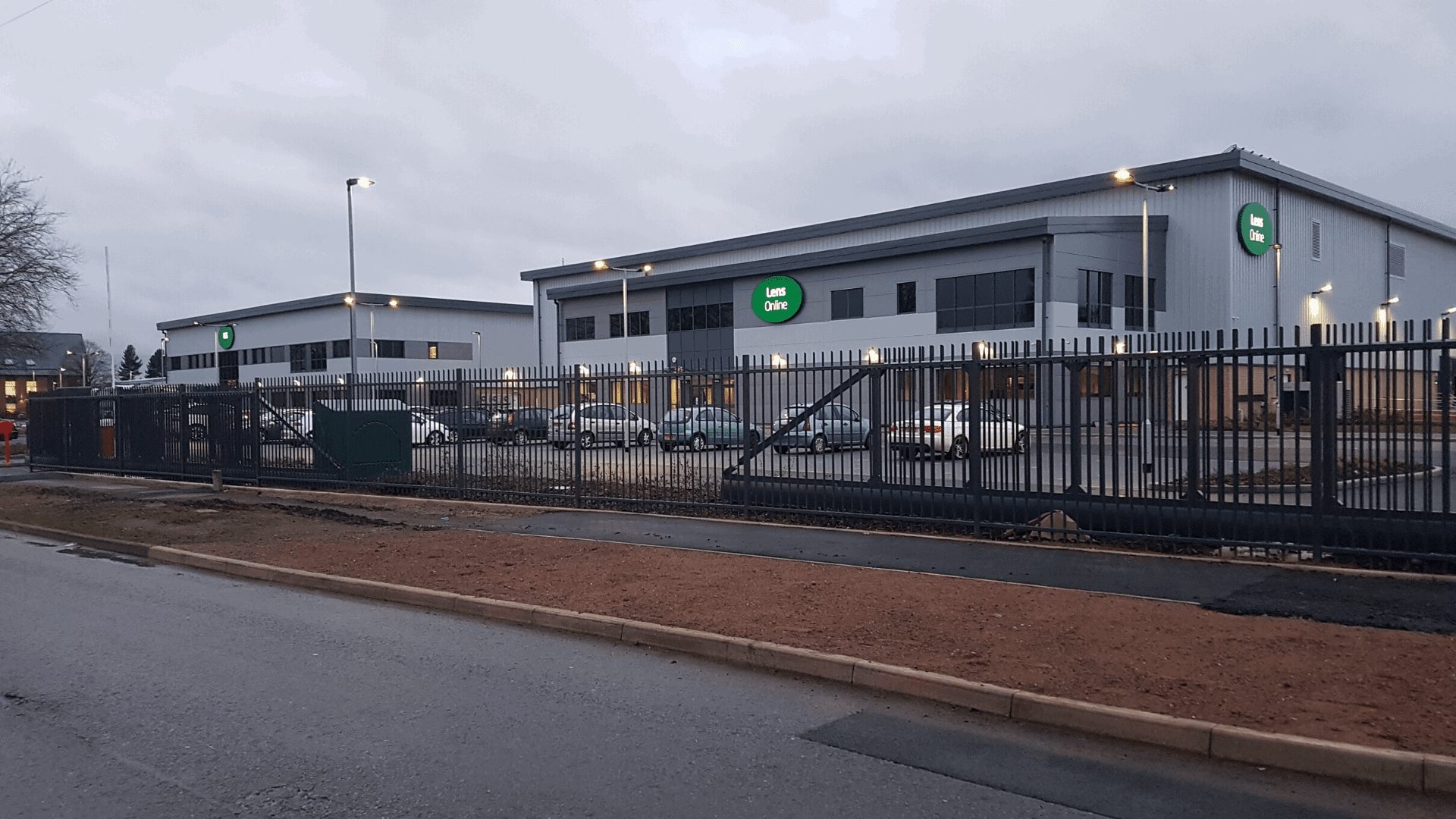 The project
Specsavers employees moving into the new manufacturing and distribution centre in Kidderminster are now enjoying a comfortable working environment created by Nuaire's Boxer Packaged Solutions (BPS) air handling units. BPS is Nuaire's first pre-selected catalogue AHU range, and offers highly efficient ventilation with heating, cooling and full pre-wired, factory-tested controls.
Employed directly by Specsavers, building services consultancy KGF Cox Ltd designed the mechanical and electrical services for the Lens Online warehouse, whilst also over-seeing the design of the office services delivered by Greenways.
Project: Specsavers International Glazing Services and Lens Online Distribution Centre
Size: Two Industrial Units Covering 77,000 ft2
Location: Kidderminster, West Midlands
Total Project Build Value: £12m
Overseeing M&E Consultant: KGF Cox Ltd
Secondary M&E Consultant: Greenways & Partners Ltd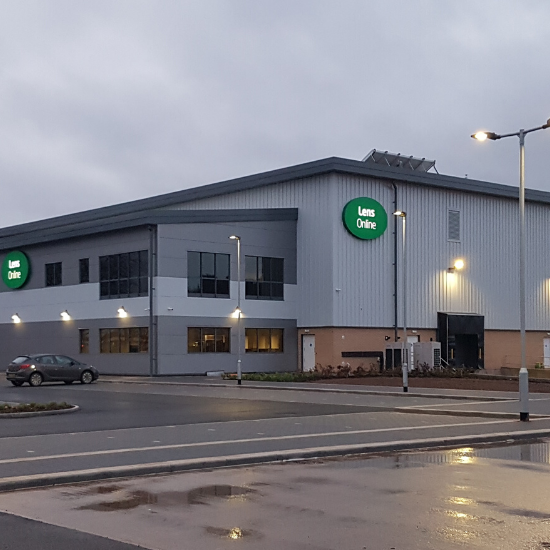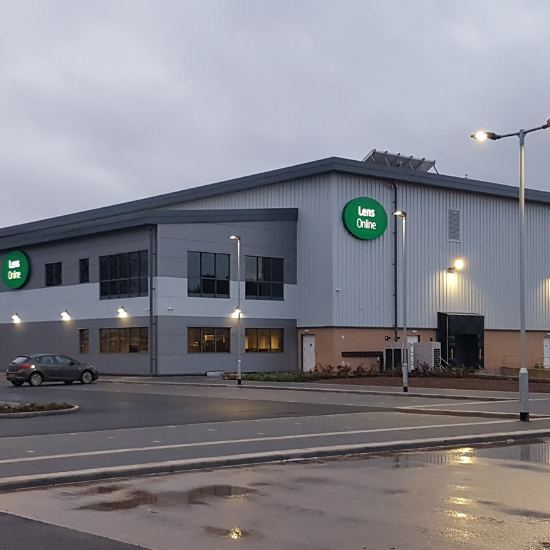 Background
Specsavers has opened a purpose-built manufacturing and distribution centre which combines two existing operations in the Kidderminster area: Specsavers' International Glazing Services business glazes customers' frames with prescription lenses for Specsavers stores in Northern European countries. The Lens Online business stocks and distributes lenses and contact lenses to stores in the UK and Ireland.
Nuaire supplied four Boxer Packaged Solutions (BPS) air handling units to provide ventilation with heat recovery and cooling to the warehouse and office facilities.
Work began in January 2016, with practical completion in November 2016. International Glazing Services (IGS) and Lens Online moved into the two new units in phases and this was completed in May 2017. IGS and Lens Online currently employ over 400 members of staff and are operational seven days a week.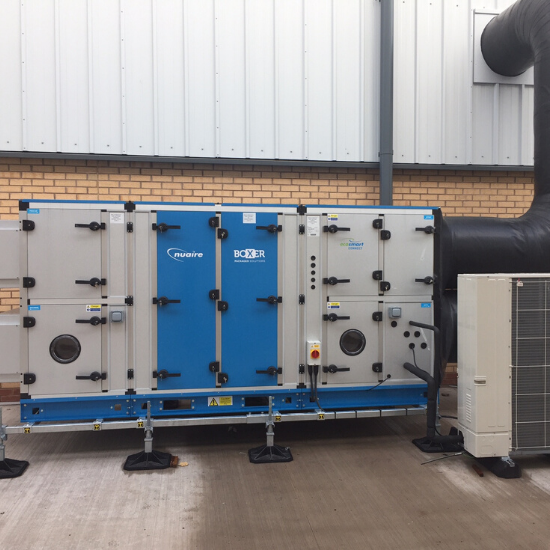 Energy-Efficient Ventilation for the Lens Online Warehouse
The Lens Online warehouse includes a semi-automated packing area with a number of conveyor systems and room for further automation in the future. With no space restrictions to impinge the design of the ventilation system, Consultant Engineer, Ken Cox was able to place outside at ground-level the two BPS units specified for the warehouse.
Nuaire's BPS units were specified with Mitsubishi (Condenser / Direct Expansion (DX) reverse cycle coils), which are capable of providing heating and cooling. Mr Cox explained: "We explored various vent strategies and opted for comfort cooling which blew air across the busiest zone which provided an efficient but cost-effective solution."
While Mr Cox has worked with Nuaire for several years, the Specsavers project was the first time that he had used the BPS range. "The feature that impressed me most was the reverse cycle DX coil, which is capable of providing heating and cooling. We could get the efficiencies we needed out of the system, and use it to provide warmth during the winter and comfort cooling in the summer months." While the new Specsavers site was built to BREEAM standards, the factory and the production area were exempt, except for a requirement to ensure low energy-consumption and CO2 levels stipulated by SBEM.
The unique, super-strong construction of the range meets the highest levels of classification including D1 (Deflection) for increased longevity, L1 (casing leakage) for reduced energy-consumption, and TB1 (thermal bridging of casing), which prevents heat loss and also lowers energy costs.
Comfort and Good IAQ for the Offices
The second engineering consultancy involved in the Specsavers project was Greenways, led by Ian Smith. Working closely with over-seeing engineer, Ken Cox, Mr Smith of Greenways & Partners was employed directly by the developer, Vanleer Ltd, to design the ventilation for the office space. He explained: "The BPS air handling units were used purely for ventilation and heat recovery in the offices. We wanted big healthy-sized units to ensure the best possible comfort and indoor air quality.
Alongside two  BPS air handling units, Mr Smith also specified an Aire-Volve AVT Twin Fan from Nuaire, to ventilate the toilet facilities in the office building. He commented: "Nuaire seems to have a wider range of kit than all of the other fan manufacturers. It's rare that I ask for something that they can't provide.
Mr Smith worked with Nuaire Sales Manager, Mike Waddington, to ensure the best ventilation selection. A long-time customer of Nuaire, Ian explained: "I work with Nuaire because of the service and because the kit works. I speak to Mike and the office staff and give a duty and the pressure drop that I need, and five minutes later I have a full selection."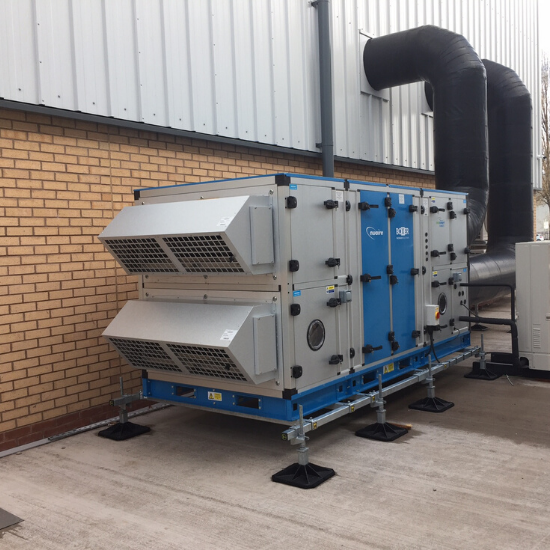 Site Challenges
A key challenge for the M&E consultants, working on the former Romwire site, was the limited electrical power supply available. Specsavers Project Manager, Pam Wood explained: "We had a power supply of 250 kVA but production-volumes had increased, so we realised that a minimum of 750 kVA was needed.
Nuaire were able to meet the lower electrical inputs with the BPS range to assist with this problem at an early stage." The company's engineering managers and maintenance teams received the necessary training to use and maintain the ventilation equipment. Minimising disruption to the busy Lens Online business was a key priority, and for that we had to ensure that we had the right team on the Project. Staff moving into the offices are very happy with the modern design and the comfortable environment, which the ventilation systems have no doubt helped to create."
"Nuaire are known as the BMW of the AHU range, and the construction of BPS is very high quality", ventured Mr Cox.
                                                                                                Ken Cox, Mr Smith of Greenways & Partner
Contact Us
If you would like to know more about this case study please get in touch with us.
Read More