Why Choose Positive Input Ventilation?
Positive Input Ventilation (PIV)
PIV Is a whole-house ventilation method that introduces a flow of fresh air into the property to raise the overall air pressure within the home. This positive pressure pushes out the stale, damp air that has been building up through natural leakage points like vents, gaps, and mailboxes.
Benefits of Positive Input Ventilation
There are numerous benefits to installing a PIV unit into the property, including:
Stops window streaming
Defends against damp patches
Prevents mould growth
Deters dust mites
Removes odours
Filters the air of allergens
It is a whole house system
Energy efficient design
Reduces energy costs
Tamper-proof design
Comes with a range of controls and sensors for easy use
Quiet operation
Gentle airflow to prevent drafts
Simple installation
Low maintenance
BBA certified ventilation strategy
Complies with Building Regulations
Extract fans
Such as those located in windows, kitchens, and bathrooms, can only ventilate the room they occupy.
PIV provides superior ventilation throughout the home and, therefore, provides protection from condensation dampness and mould in every room.
Mechanical Extract Ventilation (MEV)
Units can provide simultaneous, low-level extraction from many rooms. It does this via a centralised or decentralised (dMEV) extraction unit that is linked to the rooms and the outside of the property via a series of ducts. On the other hand, the PIV unit takes advantage of the home's natural leakage points to circulate fresh, filtered air around the whole house. There is no need for ducts running throughout the home, just a single unit, a power supply, and a centralised grille in the ceiling.
Perhaps one of the most beneficial features of Mechanical Ventilation with Heat Recovery (MVHR) units is their ability to use the heat recovered from extracted air to warm the fresh air it brings into the property. The air coming into the property will always be cooler than the air already inside, but PIV units located in the loft will be able to make use of the warmer air within because of solar gain.
PIV units are also available with heaters built in, which can warm the air to the temperature of the building. Furthermore, PIV units are equipped with onboard sensors which automatically controls how much air (warm or cool) is brought into the property to maintain a relative temperature.
All PIV units produced by Nuaire meet Part F and L of the Building Regulations as a low-energy ventilation strategy. 
So what do you think, is PIV the right ventilation strategy for your properties?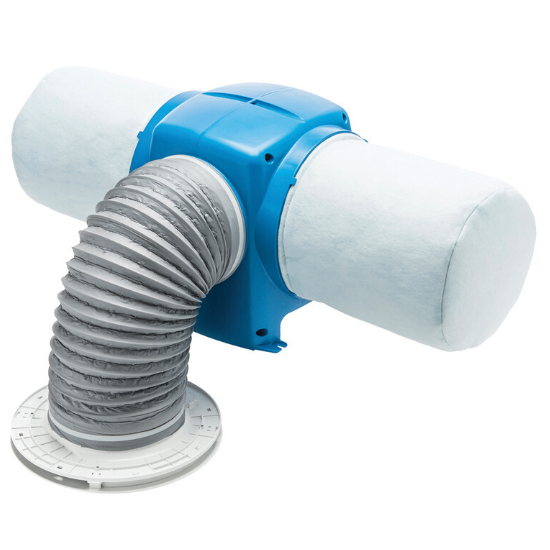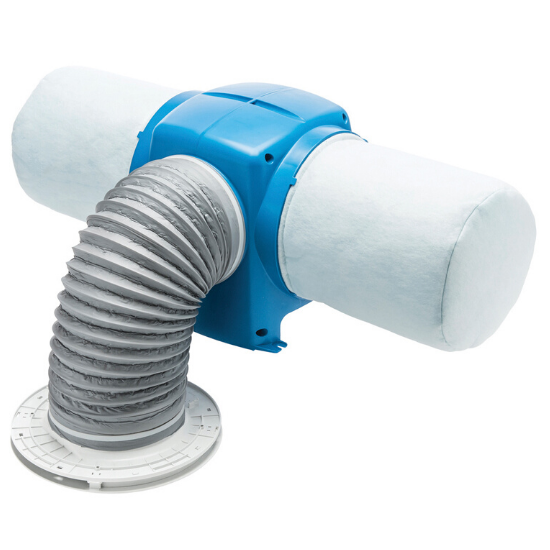 For Properties with Lofts
For homes with a loft space
The unit is easily fitted into the loft and out of the way. It is an ideal option for retrofit projects as it does not need any form of ducting or holes being made in the walls. A built-in 400-watt heater can also help reduce energy costs by heating the air drawn into the unit.
It was Nuaire who developed the PIV strategy in 1972 and has since continued to develop the unit to meet the needs of residential properties. It provides unparalleled energy efficiency and has been recognised as the ventilation unit of choice for several decades by the experts in the industry.
Units available for next day delivery, contact us today or get in contact with your local sales representative. 
For Existing Properties without Lofts
For those without loft spaces 
This low-energy PIV unit also has an integral heater, just like the Drimaster-eco Heat. It is often used in basements, cellars, and any other area that could benefit from a continuous supply of fresh air. It effective removes allergens, coarse particles, and dampness within the property and is ideal for those living in apartments.
Not only is the Flatmaster effective, but it is also aesthetically pleasing. The compact unit can be installed in any convenient location due to its multi-positional spigots.
Units available for next day delivery, contact us today or get in contact with your local sales representative.