46 Years Damp-Free Thanks to Positive Input Ventilation
It's 1972. The world's first video game the Atari Pong is out and the first LCD wrist-watch is cutting edge. The disposable lighter and first pocket calculator have just been unveiled.
At the same time, a Welsh ventilation manufacturing company named Nuaire has taken up a challenge set by the Northern Gas Board to cure the growing problem of condensation dampness in homes in northern England, and so Positive Input Ventilation is born.
The nation is in the grip of a cold weather spell, and coupled with rising fuel costs and draughty homes, tenants and homeowners alike are taking steps to keep out the cold. Chimneys are being blocked up and windows kept closed; actions driven by the popular slogan 'draughts cost money'.
In a bid to make homes cheaper to heat, Local authorities are busy modernising their housing stock and improving thermal values by bricking up chimneys and fitting modern windows. As a result, homes are warmer but hundreds of thousands of properties are blighted with severe condensation and mould growth, with wet and dry rot of timber setting in.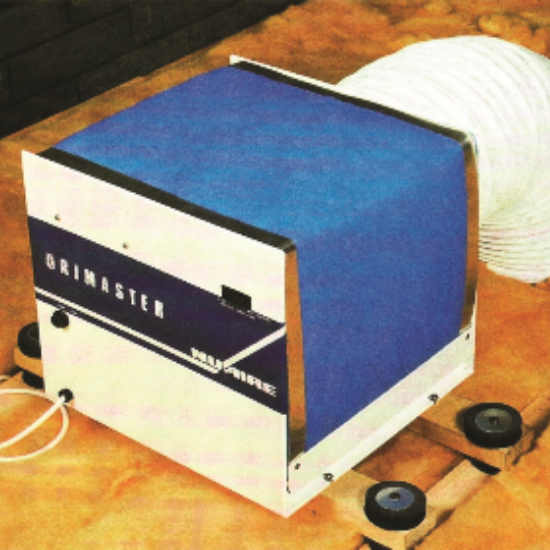 Nuaire to design an 'anti-condensation' ventilation system
The Northern Gas Board and the Northern Major Authorities Housing Consortium enlist the help of Nuaire to design an 'anti-condensation' ventilation system: the Norma. After extensive testing, the new 'Norma' units are installed in several hundred homes where they successfully eliminate the symptoms of condensation and prevent their recurrence.
The small blue unit sits in the loft-space and gently forces fresh, filtered air into the house through a diffuser fitted in the hallway ceiling. The air slightly pressurises the building, removing excess water vapour and preventing condensation.
Fast-Forward 45 Years...
Thousands of homes still suffer with condensation dampness but the success of Positive Input Ventilation as both prevention and cure for the problem is now widely recognised. Nuaire's market-leading Drimaster-Eco is still regarded as the market-leading PIV range, installed in over 1 million homes across the UK.
The range has been updated and improved many times over the last 45 years, with enhancements to reduce energy consumption, provide heating and cooling, and – at one time – even combining PIV with solar hot water. Visually, Drimaster took on its distinctive new shape in 2000, and changed its colour from green to blue when the Drimaster-Eco range was unveiled in 2016.
With its instantly recognisable shape, Nuaire's Drimaster range is affectionately known as 'the elephant' among installers, customers and buyers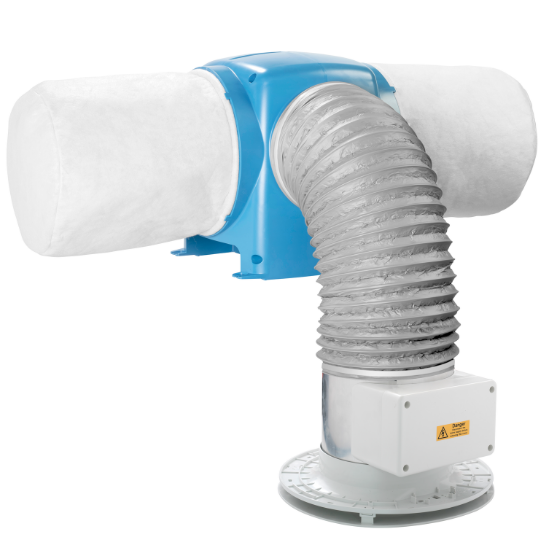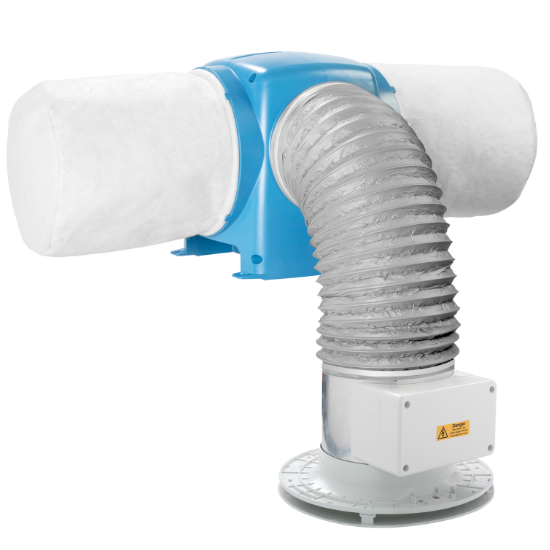 Condensation Dampness Still A Growing Problem
While many social housing providers use PIV and understand its benefits, there is still a need for more awareness. It is estimated that one in five UK households are still poorly ventilated, leading to problems with streaming windows, mould growth and poor indoor air quality. Tenant lifestyles, energy-efficiency measures such as wall and loft insulation, and a rise in fuel poverty all contribute to the problem.
This April, the government announced that its scheme to encourage energy suppliers to make homes cheaper to heat will be extended to September 2018. Under the Energy Company Obligation (ECO) scheme, struggling households must be provided with energy-efficiency measures to make their homes warmer and bring down heating bills. As well as low income and vulnerable homes, this eligibility has been extended to social housing tenants in Energy Performance Certificate bands E, F and G.
Suppliers will be required to install a minimum 21,000 solid wall insulations per year. Upgrading the energy-efficiency of housing stock can mean reduced management and repair costs for housing providers, but any improvements to the air-tightness of a dwelling must be accompanied by a robust ventilation strategy. Without this holistic view, tenants today will be no better off than those blighted by condensation and mould back in 1972.
Drimaster-Eco - Next Generation PIV
Drimaster-Eco is designed to tackle the problem of condensation dampness whilst offering social housing providers and occupants increased energy and cost savings, as well as enhanced controllability.
Nuaire launched its next-generation PIV range last winter with the introduction of unique hall-control operation through the easy-install circular diffuser, wireless sensors and controls to save energy and improve air quality, and a new style of heater that uses 20% less energy. Nuaire has further extended the Drimaster-Eco range this winter, with options including a 3-storey loft PIV that meets fire regulation standards.
As the PIV strategy reachs its 45 year anniversary this month, Nuaire has much to celebrate. By inventing this tried and trusted cure for condensation in 1972 and re-inventing the technology again in 2016, Nuaire has set the standard across the ventilation industry.
Written October 2017