Nuaire Brings New Generation Of Twin Fans To Market
New Range of Twin Fans
Nuaire, known globally for its specialist expertise in the design and manufacture of fans and mechanical ventilation systems, has introduced a new range of Twin Fans in a bid to further extend its capabilities and introduce new technologies to benefit customers.
Representing the next generation of Twin Fans, Aire-Volve is a range which is fully compliant with the latest legislative demands. The product has been designed by Nuaire's in-house research and development department, the largest and most advanced department of its kind in the UK and one which has built a reputation worldwide for continually pushing the boundaries of product innovation.
Extensive market research was undertaken prior to the design and launch of the new range; research which evidenced an industry need for a product range which offered lower SFPs, lower noise and a smaller case size than competitor solutions. In response Nuaire has designed an energy-efficient, low profile unit which incorporates the latest EC fan technology. The Aire-Volve Twin Fans utilise a unique patented inline fan design to offer one of the lowest case size by duty envelope's available on the market, in turn promising optimum performance within the minimum amount of space.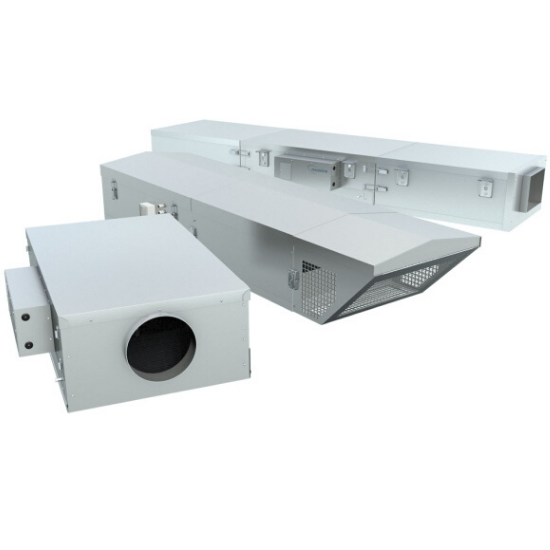 Nuaire's unique design utilises a patented damper arrangement which enables the unit to be installed at any angle. To help reduce install time, easy fit matching silencers with simple integral brackets can be incorporated into existing drop rod systems with ease. In addition, a full length access panel with safety retaining features allows easy access to both the motor and the blower assemblies, all to promise quick installation, commissioning and maintenance. Generally used for toilet extract, smaller units can be installed into ceiling voids whilst larger units can be situated in plant rooms. The range utilises two fans to provide ventilation 24/7.
Auto-changeover operation every 12 hours means that that in the event of one fan ever failing the other will begin working to ensure that the required ventilation levels are maintained.The Aire-Volve range benefits from built-in Ecosmart controls, an energy-efficient demand control ventilation solution. Additionally a constant pressure option further improves the energy performance of the overall building within which the product is installed and guarantees low energy costs for the end user. The Aire-Volve Twin Fans in fact promises lower energy consumption than traditional systems and uses EC high efficiency motors as standard.
Caroline Radcliffe, Nuaire's product marketing manager, said: "Nuaire has again designed and developed a product which demonstrates our commitment to the protection and preservation of the environment. Through the reduction in energy usage we are also able to ensure that the Twin Fans have a far longer life expectancy, benefiting not only end users but also design engineers who are provided with a better SBEM score as a result.
"To further demonstrate Nuaire's confidence in the product and our belief in the efficiency and performance abilities of the range, we provide one of the longest warranty available at five years."