Are You Considering Becoming an Apprentice or Looking Towards Engineering as a Career?
Are you considering becoming an apprentice or looking towards engineering as a career?
Here Chris Sargent discusses his career path from apprentice to director.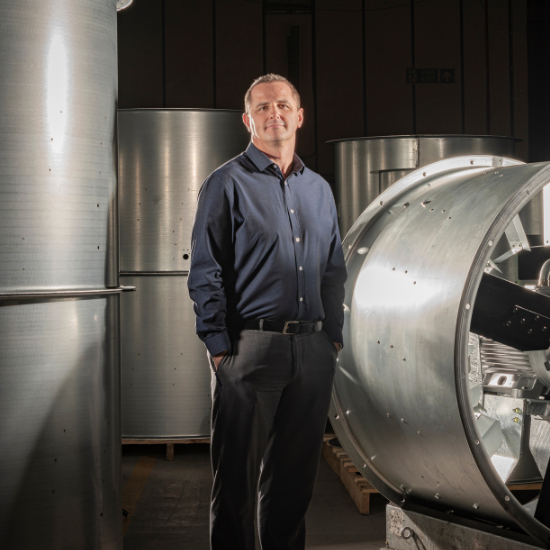 Can you give us an overview of your career to date?
I've been with Nuaire for over 20 years; I started as a manufacturing engineer in August 2001. I came straight from college and started my Advanced Apprenticeship in Manufacturing Engineering.
The scheme was a 4-year Advanced Apprenticeship with Coleg y Cymoedd and Newport University. Because I came with a BTEC National Award, I went straight into my Higher National Certificate (HNC).
To achieve an Advanced Apprenticeship, I needed to pass by NVQ levels 2 and 3 in Engineering to demonstrate hands-on engineering practices to meet the requirements of the Advanced Apprenticeship.
I subsequently achieved my Higher National Diploma (HND) and progressed to a BSc (Hons) Manufacturing Systems degree, which was outside the remit of my apprenticeship. Still, Nuaire seeing potential in me, wanted me to advance to a degree course, and I haven't looked back.
What attracted you to engineering as a career?
I've always been inquisitive, and for as long as I can remember, I have pulled things apart to see how they work. Although, I'm pretty sure my mother wasn't so happy about it!
It sounds a bit cliche, but engineering touches every part of our lives - from consumer goods, cars and houses. Seeing how things can be improved and made better through technological advances and engineering innovation is fantastic.
Why are apprenticeships important?
The hands-on training allows new apprentices to develop and learn from experienced engineers. You can also earn a salary, whilst learning, which is a huge benefit.
However, an apprenticeship is not an easy option. Those considering this as a career path will require self-discipline and self-motivation to balance learning, completing coursework, and managing projects on the job.