Brits Set to Lock Themselves Down as Post-covid Pollution Threatens to Surge This Summer
UK Air Pollution Levels
June 2021
Fears nitrogen dioxide levels could be greater than pre-Covid levels
Current air pollution back to pre-covid levels – despite lockdown restrictions still in force
Demand for better workplace air ventilation as millions of Brits consider pulling a sickie to avoid bad air
UK air pollution levels are fast returning to pre-pandemic levels, despite lockdown restrictions still in force - and one in 10 Brits, and up to a quarter of Londoners, will pull a 'sickie' so they don't have to travel to work as air pollution peaks this summer.
That's according to new research out today which analysed air quality, including nitrogen dioxide and fine particulate matter levels, in several major cities including London, Glasgow and Manchester - prompting fears that poor air quality could rise to dangerous levels when the Prime Minister hopes to lift remaining restrictions on 19 July.
Of the 12 cities investigated, areas that were back to pre-lockdown levels for nitrogen dioxide from March-May 2021 include Sheffield (now worse than before lockdown by approximately 25%), London boroughs (Tower Hamlets, Camden, Haringey, Bexley, Bloomsbury, Eltham, North Kensington), Brighton, Plymouth and Bristol. Whereas central city locations, such as London (Marylebone, Westminster and Hillingdon, near to Heathrow Airport where many planes are still grounded) and Manchester Piccadilly, are still below pre-lockdown levels.

On receiving these findings, leading air quality and ventilation specialists, Nuaire quizzed 2,000 adults nationwide - and found that an overwhelming 83% say they noticed air quality improved over the last year, with 41% saying they are 'sad' and a further 10% said they would be 'devastated' that pollution will return to normal levels and potentially beyond.
The research also reveals:
Over half those quizzed (55%), and three quarters (77%) of Londoners, say air pollution has a direct impact on their lives, while a quarter (25%) say air felt clearer in lockdown, 22% enjoyed it being more peaceful, and a third (36%) exercised more
The majority (57%) plan to take extra measures this summer, with a quarter seeking better ventilation at work and home to combat the problem as traffic increases
Keen to avoid leaving their home, 15% of Londoners will request more flexible working arrangements while 8% nationwide and 24% of Londoners admit they will resort to 'pulling a sickie'
A fifth (18%) say they will wear a face mask outside, rising to 29% in London
Nature healing itself was a phenomenon witnessed by billions over the past year, as the world ground to a halt because of Covid - allowing global pollution levels to drop rapidly.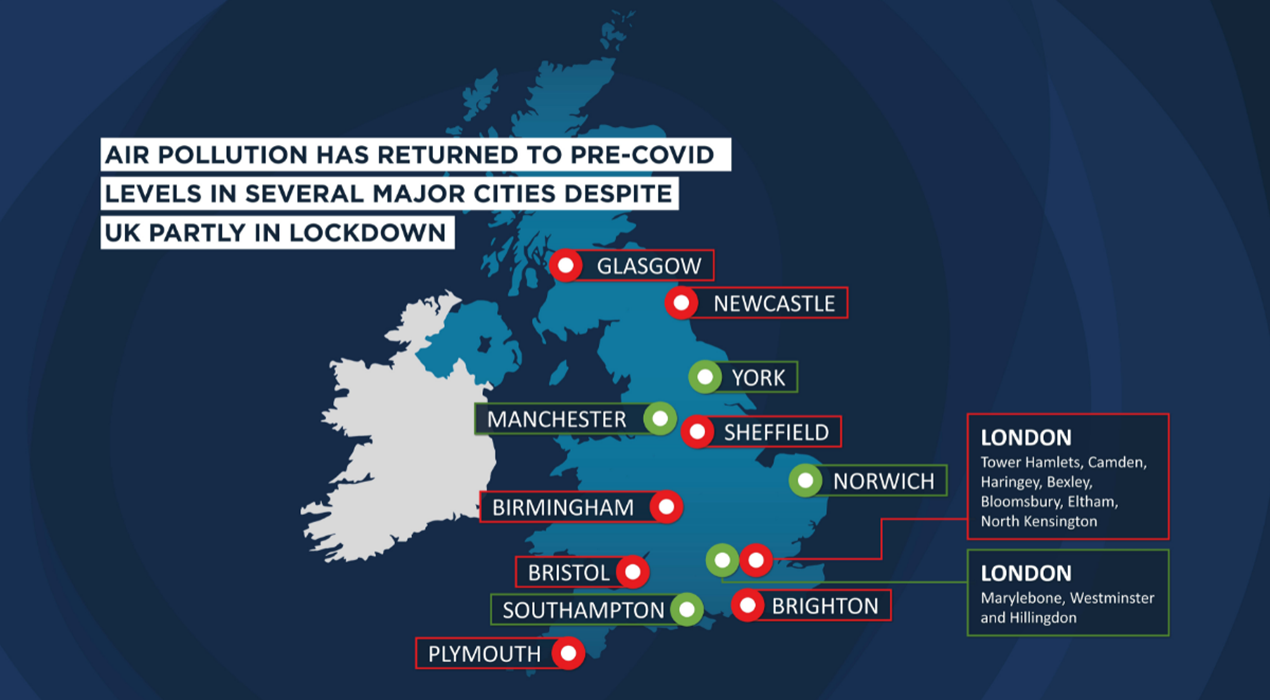 Air quality and ventilation expert Wayne Glover, managing director of Nuaire, said: "Our study across the Automatic Urban and Rural Network (AURN)* shows air pollution has already returned to normal levels in half the cities we analysed, despite final lockdown restrictions yet to be lifted.
"It's astonishing how quickly UK air pollution has returned to pre-Covid levels despite the country being far from back to normal. If this continues, it's safe to assume that we are on a trajectory for another summer of polluted air."
Demand by UK businesses to improve air quality at work has led to Nuaire developing a new ventilation system, Haven Terminals, designed to enhance indoor air quality and prevent the risk of spreading airborne pathogens and other pollutants in shared spaces. The company believes it is potentially the answer to better physical and mental wellbeing in the workplace.
Wayne Glover of Nuaire added: "Millions are still working from home, there are limited flights in the air and limited numbers of people travelling in and out of the country – and it's genuinely concerning how much higher pollution could rise when the country finally reopens.
"The way the public has reacted shows real fear and concern - pretty much opting to self-isolate out of choice to avoid the rising pollution levels.
"But unfortunately, staying home and pulling sickies isn't the answer. The truth is, poor air quality can't be avoided, despite over a third of people polled in our research thinking outdoor air and indoor air quality don't affect one another. In fact, outdoor air quality is a major contributor to indoor air quality.
"We're being told at the moment to open windows for ventilation but the air outside brings its own problems. It sometimes feels like there is no escape."
HAVEN Campaign Video 
Nuaire has engineered affordable products that could provide the vital missing link in ensuring air quality is as good as it can be in mass occupied spaces such as offices.
Different to existing ventilation systems that circulate airflow around a space and results in cross-contamination across people's faces, the new Haven Terminal provides air 'locally' with vents that direct the flow of fresh air to the individual – like a car or aeroplane vent – providing a local source of fresh air and eliminating the act of breathing second hand air.
This 'clean room theory' filters the air at the last possible point before it enters the room, meaning it removes external pollutants and contaminants within the ventilation system itself along the way. The 'used' air is then extracted again through vents in the floor or wall at ankle level, meaning that contaminated air is not simply pushed along to the next person.
Wayne Glover of Nuaire added: "In the workplace, we get used to the 'fuggy' environments we work in, but if workplaces provided cleaner air to employees, they could see a happier, more alert and efficient workforce. Haven can help reduce the spread of coughs and colds by localising the airflow and essentially creating a safe haven for people indoors away from poor air, which as we know, can kill.
"For people looking to return to the workplace as the pandemic continues and their employers, Haven Terminals could provide the vital missing link in ensuring that indoor air quality is as good as it can be."
The research also reveals a new awareness of air pollution, with many vowing to change their behaviour to do more for the environment: seven in ten Brits (70%) say they will now make changes to help combat air pollution.
Almost a quarter (22%) have vowed to stop taking unnecessary car journeys while 16% intend to change to an electric or hybrid vehicle and 8% plan to 'sell my car and never drive again' and one in five even claim they will 'never take a flight again' (21%).
For more information, visit: www.nuaire.co.uk
Wayne Glover of Nuaire added: "Millions are still working from home, there are limited flights in the air and limited numbers of people travelling in and out of the country – and it's genuinely concerning how much higher pollution could rise when the country finally reopens.