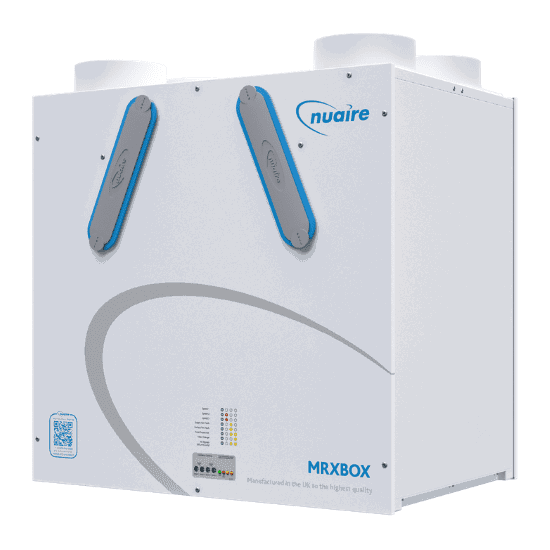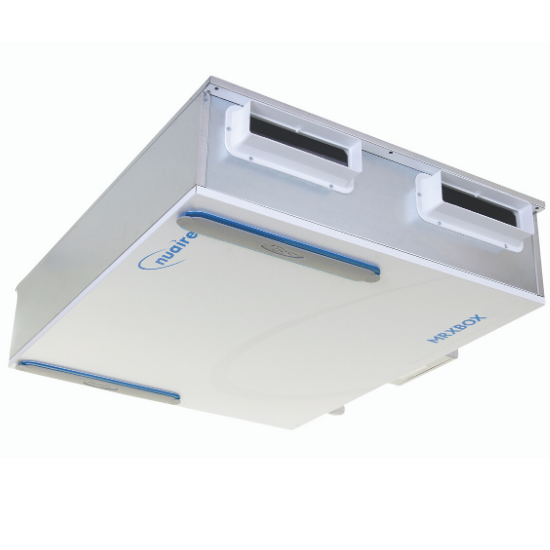 MRXBOX-ECO
Nuaire's MVHR systems provide optimised, balanced ventilation with heat recovery with 95% efficiency. Our systems will quietly and efficiently provide the home fresh, filtered air all year round, improving the indoor air quality and reducing dust and allergen levels.
We offer the complete MVHR solution for new build properties with Q-AIRE range offering a supply and extract valve, an in-line carbon filter, an acoustic enclosure for an MVHR unit only, and finally a unique all-in-one acoustic enclosure surrounding not only an MVHR unit but a built in silencer. View our Q-AIRE range here.
Models
The New MRXBOX-ECO5 and MRXBOXAB-ECO5 (with automatic bypass) range of heat recovery systems are designed for medium to large sized new build houses and apartments.
The ECO5 unit comes in the same sized case as our ECO3 units, has high airflow at selected duty points, and low Specific Fan Power (SFP). All ECO5 units come with 5 year warranty: 1 year parts and labour, remaining years parts only (UK and Ireland only).

High Efficiency
Heat exchanger is up to 95% efficient resulting in low SPFs and a high SAP score

Healthy Living Environment
Improves indoor air quality and prevents condensation by keep moisture levels low
Meets Regulations
SAP recognised and meets Part F & L of Building Regulations

Lightweight and Compact Design
Can be mounted on a wall or in a cupboard, reducing overall noise levels and making less obtrusive for occupants
Low Maintenance Costs
Easy accessible filters from front cover and no tools required
Contact Us today
If you have any questions or queries a member of the team are here to help.
Read More